Evan's Updates
It is far from a coincidence that, during an Obama administration, they are dancing in the streets of Tehran and rioting on the streets of America.
Articles & Videos from Conservative Speaker Evan Sayet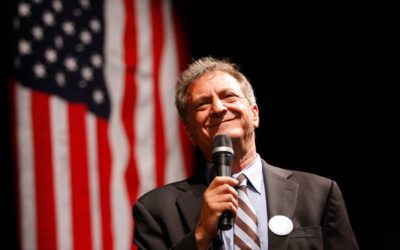 AUGUST 27th — 2 and 5 pm — El Portal Theater in North Hollywood. Email me at contactevansayet@gmail.com for free tickets and please SPREAD THE WORD.  We need a packed house (400 seats each show) for both the energy and the aesthetics when the cameras — any one of SEVEN of them — scans the crowd. We always complain that there's no conservative-themed entertainment out there in the mainstream. Well, THIS IS IT. This is a BIG BUDGET, seven-camera shoot of my HBO-style stand-up comedy special ala Bill Maher, Chris Rock, Sarah Silverman, et al and it's FROM THE RIGHT. and I NEED YOUR HELP. EVERY SINGLE ONE OF YOU should come out — and bring a friend or three or five — to help me pack the four-hundred seat El Portal Theater for two sepaate shows back-to-back to be edited into one hour-long stand-up special. This is being produced and directed by LIONEL CHETWYND and,, in its own way, may be one of the most important conservative efforts of recent memory as, since, in the words of Andrew Breitbart, "pollitics is downstream from culture," this concert video is intended to pierce the stranglehold the left has on political satire and destroy the Leftist created myth that only Liberals are smart, funny and creative or that there's simply no audience for conservative entertainment. Again, I NEED YOU — and it's free!!! Please help me pack the room for both the energy it brings and for the aesthetics of the audience shots. Imagine if the camera turns for reaction shots and there are empty seats. Liberals will have a heyday...
The Heritage Foundation's Most Watched Lecture
The Conservative Forum's Most Watched Lecture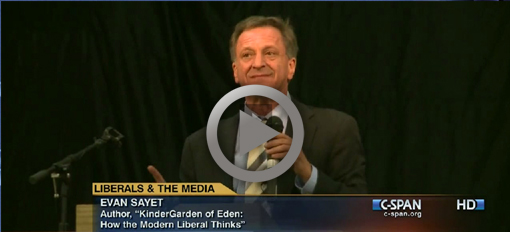 Why the Modern Liberal's thinking leads him to side with evil over good, wrong over right and the behaviors that lead to failure over those that lead to success. Further extrapolating on the ideas in his wildly popular viral youtube talk to the Heritage Foundation, that has received over 600k hits, Evan Sayet uses his signature wit in this new book to ask thought- provoking questions during these turbulent economic and social times. And he provides the reader with some surprising answers. Andrew Breitbart said that conservative comedian, Evan Sayet's Heritage Foundation Speech was 'one of the five most important conservative speeches ever given.' That speech was the foundation for this book. How did the song "Imagine" by John Lennon become the perfect symbol of liberal thinking? Why does Bruce Springsteen dub "pain" as the wages of toil and hard work? What's the Democrats' beef with God? What do they have against the Jews of Israel? Why do they want abortion to be commonplace and frequent? Why does the Modern Liberal –the dominant force in today's Democratic Party and in so much of today's popular culture – seem to always side with evil over good, wrong over right and the behaviors that lead to failure over those that lead to success? Evan Sayet answers those questions and a lot more.
Amazon Number One in paperback, Commentary and Opinion
"Perhaps the most important book I've read in the last ten years.  It has forever changed and clarified the way I view the world" — Bill Whittle Buy Now